15/02/2016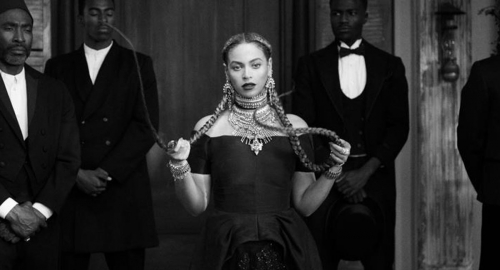 A la veille de sa performance au Super Bowl 2016, Beyonce n'a pas fait les choses à moitié pour son grand retour : elle a sorti un titre intitulé « Formation » accompagné d'un clip et de l'annonce de sa prochaine tournée.
Pendant presque 5 minutes, la chanteuse américaine prend la pose dans des décors et des tenues incroyables accompagnée de sa fille Blue Ivy et d'une dizaine de danseurs. Pour cette occasion elle a fait notamment appel à la maison de Couture française ON AURA TOUT VU pour l'habiller d'une robe longue noire en soie aux épaules dénudées.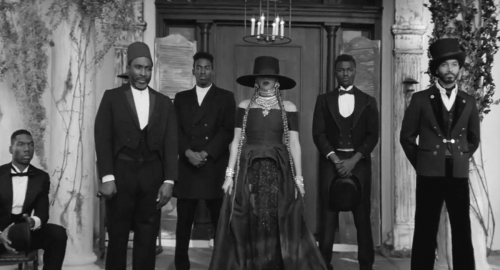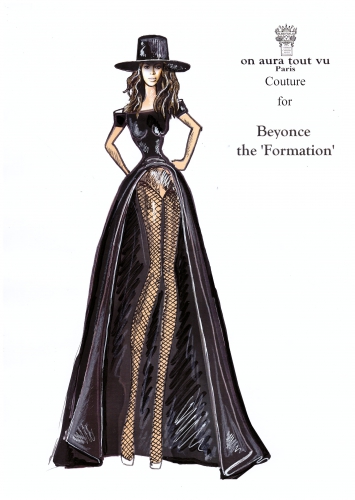 12:32 Publié dans Art and Fashion, Blog, Fashion, Film, HAUTE COUTURE & FASHION, People,VIP, Events, Web | Lien permanent | Commentaires (0) | Tags : on aura tout vu, beyonce, queen b, paris, formation, 2016, couture, fashion couture, new song, black dress, robe en soie, haute couture, designers
23/07/2014
A l'occasion de la semaine de la Haute Couture à Paris La Maison ON AURA TOUT VU vous présente en ligne sa collection Couture H2O : Découvrez les silhouettes et le défilé en vidéo d'une maison de couture atypique originale est étonnante aux palais Royal a Paris:
For the occasion of the Haute Couture Week in Paris the couture house of on aura tout vu present for you online the Couture H2O collection: Discover the silhouettes and the fashion show video of a original atypical and amazing couture house has taken place in the gardens of Royal Palace in Paris:
18:38 Publié dans Fashion, HAUTE COUTURE & FASHION | Lien permanent | Commentaires (0) | Tags : onauratoutvu, mode, couture, hautecouture, fashion, h2o, mode couture, haute couture on aura tout vu, on aura tout vu, yassen samouilov, livia stoianova, hiver 2014 2015, fall winter 2014 2015, vip, fashion week paris, designers, haute couture week, couture house of on aura tout vu, silhouettes, atypical and amazing couture house, royal palace in paris
03/02/2014
Collection Couture Spring Summer 2014 "Light & Shadow" from ON AURA TOUT VU by Yassen Samouilov & Livia Stoianova Haute Couture Fashion Week Paris

light & shadow


Ombres mélancoliques de l'esprit noir, découpes sinueuses et perçantes,
lucioles mutantes ondulent le temps, perlent la nuit.
Corps traversés de lumière blanche, rivières endiamantées
ponctuent les formes, décrivent le souffle, marchent dans l'ombre de la nuit.
Nuitées d'osmose entre clair-obscur, silhouettes trompeuses, rêves mystérieux.
L'heure exquise s'impose...

Melancholy shadows of dark spirit.
Lucioles mutant, ondulete the time and pearl the night.
White light pierce the body, diamond rivers ponctuate the forms,
frame the breath, walk in the swadow of the night.
Dark osmosis between chiaroscuro nights,
deceiving silhouettes of a mysterious dream.
The exquisite hour is needed…
Feel yourself as on the front row at the On Aura Tout Vu Spring/Summer 2014 show at Paris Haute Couture Fashion Week.
The collection "Light & Shadow" featured a glow-in-the-dark embroidered looks with battery operated LED systems illuminating shoulders or horizontal stripes across the dresses for the show's finale.
Geometric abstractions as a form of abstract art based on the use of fasted geometric forms placed in non-illusionistic space. Inspired by Victor Vasarely and Wassily Kandinsky, thedark edge permeated the collection, with white ,black and violet geometric fur skirts lines holding stiff, faceted light shapes reminiscent of a xxl gemstones. Made to order for private clients this collection carried 3D faceted effects, with Art Deco-style arrangements of geometric beads in the form of armor.
20:36 Publié dans Fashion, HAUTE COUTURE & FASHION | Lien permanent | Commentaires (0) | Tags : video, fashion, mode, couture, haute couture, led systems, illuminating, stripes, show, fashionshow, spring summer 2014, paris haute couture fashion week, light, shadow, constructed by hand, dressmaking, runway, models, parisian couturiers, style, made-to-order for private clients, fashion shows, fashion week, runway highlights, front row celebs, backstage, hair, makeup, designers, photo shoots, red carpet, yassen samouilov, livia stoianova, onauratoutvu, worldwide fashion coverage