TARA McDONALD VOTED THE "BEST VOICE OF 2010" OF THE DANCE SCENE. On aura tout vu is happy to have the opportunity to make this gold body suits for Tara .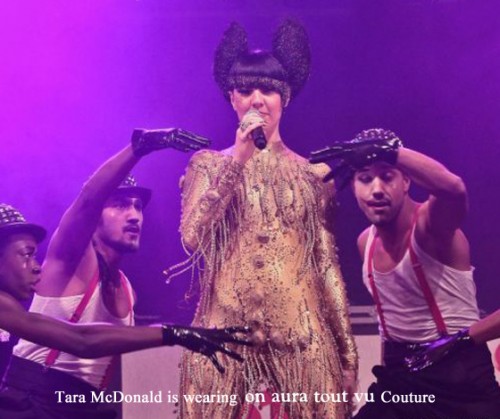 Awarded by the magazine "OnlyForDj's", Tara is one of the most successful vocalists in the world, with more than 253 performances around the globe in a year. Tara McDonald is the outstanding voice that everyone knows: in fact since 2004 Tara has lent her voice to many of the hottest hits including: 'My My My' (Armand Van Helden), 'Feel the Vibe' (Swedish house 'Mafia' producer Axwell), 'Get Down' (Todd Terry), 'Delirious' (David Guetta), and numerous others. She was also signed for 2 tracks on the album 'Pop Life'! She definitely is the Queen of clubs. The House Music Diva has hits that have flown into the top 10 in international charts and are still played regularly on the radio. Many of the most successful DJs want her as much as her fans do. She has been working with David Guetta, Armand Van Helden, Axwell, Joey Negro, Nervo, Laidback Luke, Afrojack, Mowgli, TV Rock, Funkerman and was signed with the Ministry Of Sound/ Hed Kandi. She was also resident singer for Hed Kandi in Ibiza 2009 (Space) and 2010 (Es Paradis, Savannah for "Tara's acoustic sunset sessions"), and she astonished the fans in some incredible events like Tomorrowland 2010 where Tara teamed up with Dimitri Vegas, Like Mike & Dada Life to write the official anthem for the festival called "Tomorrow, Give into the Night" which Tara wrote the vocal melody and lyric.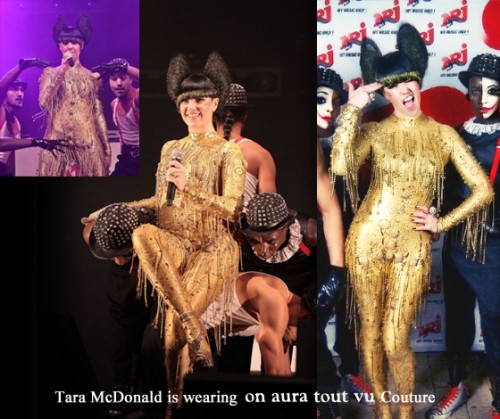 As David Guetta quoted, Tara "can give real authenticity to house music": an unbelievable performer, able to bring a contagious energy to the stage. She involves and bewitches hundreds of thousands of people per night with such a glamorous voice and sexy style: The real and unique Queen of clubs. Tara is an unstoppable force and globetrotting artist with 253 performances in 2010, several hits in the top chart, and even more projects for the future, starting with a new track: 'Dynamite' with the great Sidney Samson. This track is out now and already ranks in the top of the dance charts. 'Sexy track' and 'Very Sexual' with a breathtaking video shoot with Sidney. Looks like this Dynamite video is set to blow the roof off dance videos showcasing the very talented, very sexy Tara. Another track already in full production with the dance legend Roger Sanchez, Tara co-wrote with the magical Duane Harden, to whom we owe, amongst other hits 'Love Generation' Â which propelled Bob Sinclar to the rank of an international superstar! And the next collaboration will happen very quicly: a duet with Quentin Mosimann, the French popstar, for the international version of "All Alone" already in the Top 10 in the French speaking countries! (Universal Music). Also there will be other high profiles realeases to come later this year with a certain Grammy Awards winning US producers and artists currently with a worldwide number1. Tara is also bringing out a solo album planned for 2012 with some unexpected collaborations. Tara was born a star: as a child of 12, she performed in Holland on stage with film legend, Audrey Hepburn, after winning an international singing competition representing England. Â Worried about the pressure on their talented daughter, her parents put her career on hold. Nevertheless her talent was too incredible to be kept silent. With passion and determination Tara started to appear with many of the music giants of rock and pop (Bryan Ferry, Roger Walters 'Pink Floyd', Andy Taylor 'Duran Duran', Jocelyne Brown, Eric Clapton, Ringo Starr).